It's 2020, and blogs are still #2 media (after video) that are used in content marketing strategy.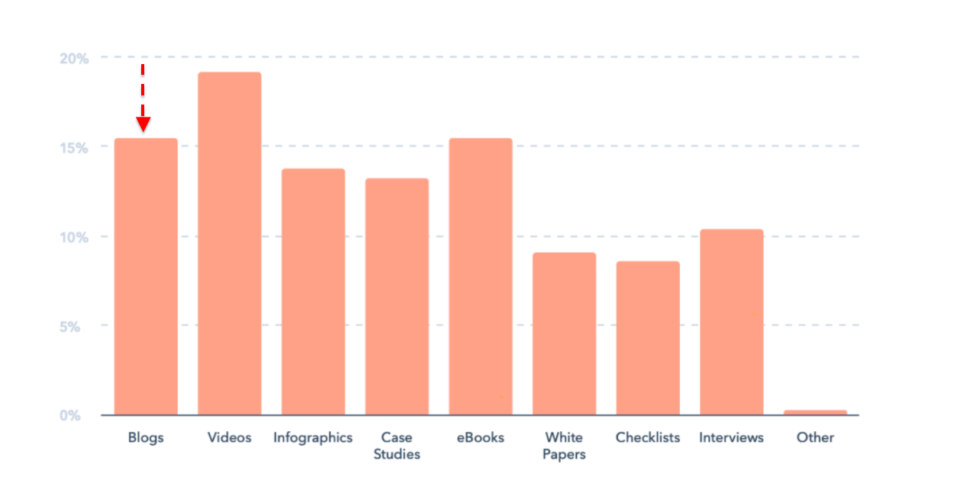 Companies blog because they are told it works.
But they don't go all in because it does not seem to work to them.
They just keep on doing it, because it is one of those things that a brand that is doing 'digital marketing' should do.
This is leaving money on the table, by not unleashing the true power of blogging.
And it also equals to sunk time and money because it takes effort, time, and money to create a high-quality blog post. Even when you write and publish it yourself you choose to do it over something else so there is a cost involved.
Let's look at the time that goes into getting a usual long-form blog post of 2000-3000 words ready.

For the sake of understanding, three people – writer, editor, and designer (for graphics) – invest 25 hours to create such a blog post. This time includes brainstorming, going back and forth, ideating, thinking, writing, editing, rewriting, adding graphics, and publishing. So depending on what value you put on your time and those who work for you it can cost anyone between $100-1000 (INR 7-70k).
Now if you stop at this, then not many people will see. And, all this money and time is gone forever.
Here is what you can do instead to save yourself from this loss.
Get Real Results From Your Blog Posts by Doing This
Account for a little more time and energy to promote the blog post.

The irony of not implementing my suggestions here, on this blog is not lost on me.
Let's just say my goal with this blog is not to generate leads or meet big business goals. This is my experiment hub more than anything else.
Now, let's stick with me.
And, always have a business growth goal associated with each blog post, and execute your blogging powered growth strategy as I have shared below.
Create a small number of in-depth blog posts. 1-2 a month are good.
Have an opt-in form in the middle of each blog post.
Offer the blog post as PDF for those who add their email address
Have a promotion plan for each blog post in place. At the basic level, it will be to write an email to promote every blog post you write.
Have the next step for each blog post, so what will we be promoting to anyone who comes and reads that blog post
For example, retarget (run ads on Facebook) for anyone who visits a particular page on the website, so the next step for a blog post on public speaking will be a webinar on growing your personal brand with public speaking. Aim to get 50-100 registrations for that webinar, at 10-20% attendee level you'll get anyone between 10-20 attendees. That's a win. Learn from this first experience and do what works in a bigger way for the next one.
The same webinar you run, host it as a Facebook live. My ultimate suggestion is to run a live session of YouTube but for the first 2-3, do it on Facebook because you'll see some engagement there.
Pitch whatever you sell towards the end of your webinar.
Use the content marketing powered growth funnel I shared earlier, to close the loop and win new business with this approach.
With this, you can easily see 10x returns on your blogging investments.
Won't that be awesome?