"I want my hands and mind to be free to work on growth. Damn, I want to take this company to $1 million in revenues."
 Dan, guess this is what is  on your mind these days.
Time and energy are two of the most important assets an entrepreneur has. It's the fuel you use to come up with new ideas and execute on your massive plans.
Content marketing has been a big winner for you and it is logical that you want to scale it. Obviously  the person you choose to work with you should be capable, trustworthy and efficient.
Looks like, you have found that person. I will share more about why I am the right fit as the next member of your team. Before that let me share how I plan to add value to your content marketing efforts. Here is what I intend to do as WP Curve's team member,
o  Create in-depth blog posts. Effort will be to feature influencers or make it useful enough  so that influencers will want to promote it.
o  Write useful content that will appeal to potential customers of WP Curve.
Create interesting emails for every piece of content using AIDA to achieve maximum click throughs.
o  Research potential guest posters and invite them to publish on WP Curve.
Use Skyscraper technique  to create breakout content.
o  Contribute to content promotion and influencer outreach – by leveraging existing relations and developing new contacts.
o  Re-purpose existing content.
o  Create content upgrades to improve subscriber numbers per piece of content.
o  Create how to type content with one key takeaway that the reader can implement in less than an hour.
o  Create content that will focus on hitting a pre-defined metric.
o  Create series of posts that can be converted into an ebook or a free course.
And more.
"…. Great Post."
This is what Chris Brogan said about this post I wrote on Medium.
"You… A Healthy Entrepreneur. Yes!  " by @MohitPawar https://t.co/XqstauXTFJ

— Chris Brogan (@chrisbrogan) March 22, 2013
Think about it. How much easier would your work be, if your content marketing team member was so responsible, passionate & fun to work with, that your could forget about content marketing? Imagine:
o Not needing  to think about content marketing; because you have it  on autopilot thanks to an efficient team member.
o  Having ample free time to work on important ideas.
o Not  worrying about missing the blogpost schedule.
o Investing most of your time and energy on growth… and taking care of other CEO responsibilities as shared by Fred Wilson here!
o Spending more time having fun with your loved ones!!
And, while you're imagining that lovely scenario… What if you could see not one but two break out posts (with 50+ tweets) on WP Curve blog every month. What if your content marketing team member cared for WP Curve's success as much as you do?
I will be that person for you.
Here is what Derek Sivers had to say about our work together.
Today my hero is @MohitPawar for his amazing work with http://t.co/nhkzQBl4 + more. So so impressed with this man. http://t.co/iuuBBOPn

— Derek Sivers (@sivers) June 25, 2012
I work with content creators myself. And I hate  when someone does not get what I try to tell them.  That's why whenever I work with a partner or client, I make a sincere effort to make the experience … free of stress, and without wasted time for other party.
By deciding to  work with me to scale WP Curve's content marketing, you'll get the benefit of working with an an experienced blogger,
o who has been using WordPress since 2005
o who has been entertaining and educating audiences at WordCamps since 2011
o more importantly, who is committed to to help you get the best return on your investment.  I will do this by offering,
o  A never ending list of content topics
o  Solid long form content
o  Timely delivery of content and other action items
o  Interesting ideas for growth of WP Curve
I will of course, work on organizing guests for You and Alex to interview and work with Ness on content promotion.
In addition to all this, I will be happy to engage in the tasks you expect  a WP Curve team member to do.
Bring me on board to get rid of your content marketing hassles  and add tons of useful, attention and traffic worthy content to WP Curve on a regular basis.
You have a team to manage, a business to run.  Let me take away the worry & hassle of content marketing.
Try me today. It'll take you less than 2 minutes to open your email inbox and send a reply to me with a "Yes".
I hope when we start our work together it will be for the long haul.
In an extreme case, if you don't like my work – you can cancel our engagement at any time.
Here is a sample of my work.
Book.
Check out the book I co-authored with Derek Sivers here.
Ebook.
No Idling. This was created to promote Steve Pressfield's book published by Seth Godin's Domino Project.  (I led this ebook project from idea to finished product in 2 weeks flat. It featured stories by James Altucher, Neil Patel, Michael Port, Carol Roth and several other changemakers.)
Here is the  blog post  announcing this ebook on Domino Project's website.
Blog Post (Series).
– How to Start a Business (21 post series)
– Entrepreneurship 101 (collection of posts)
– Ideas to Hack Your Next Project
– Things I Learnt as an Entrepreneur
My Guest Post on Public Beta.
– How not to build a business – mistakes made and lessons learned.
Interviews:
Interview with James Altucher
This  interview with James Altucher ended up on BusinessInsider.com
James is also kind enough to use the interview on his about page.
Interview with Seth Godin
Interview with Seth Godin  for my personal blog.
—
This was my small and sincere attempt to convince you about my suitability for this role 🙂  I am looking forward to work with you and add value to WP Curve.
Make Contact.
Please reply to the email I sent you or send a new email (mohit @ mohitpawar.com).
or tweet me @mohitpawar
I don't look exactly like this these days because I shed more than 40 pounds during past 8 months. Still here is a picture for your visual pleasure 🙂 that Noah Kagan took as we toured parts of Old Delhi in India.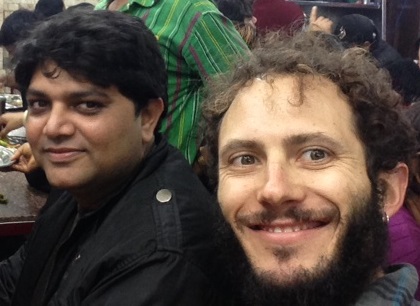 – Mohit
PS: Here is a list of 100 blog topics that I curated specially for WP Curve. I am very optimistic about working with you. For any reason if that does not happen please keep these blog topics as my gift to You and WP Curve 🙂